If you make a purchase using a shopping link on our site, we may earn a commission. Learn More
Top pick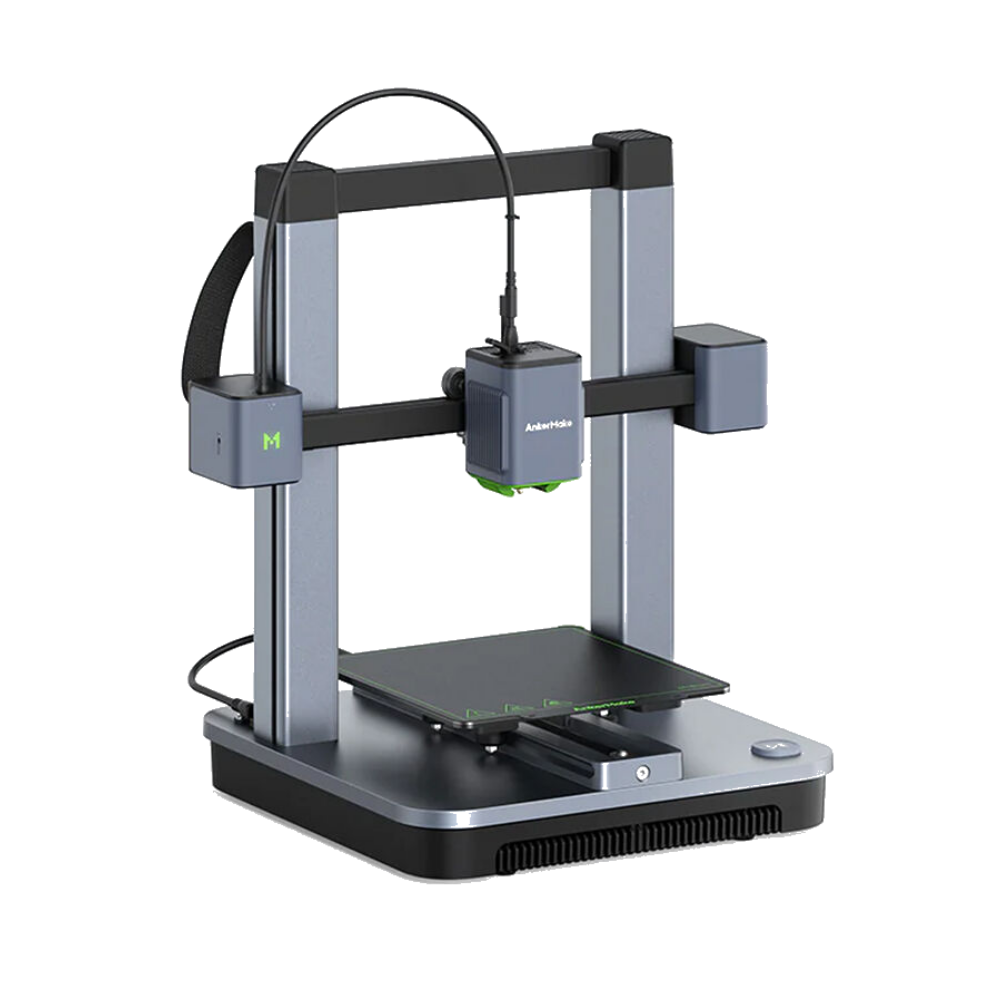 AnkerMake M5C
Year Released:
2023
Build Volume:
220 x 220 x 250 mm (~8.75 x 8.75 x 10 in)
Price Range:
$375 - 400
Why is this printer a 3DPros top pick?
The AnkerMake M5C takes a different approach from other printers on the market that we think is much friendlier to users who are new to 3D printing, at an approachable price point for newer users. With the printer being completely controlled through an app, it feels different to interact with than almost every other 3D printer we've used.
But AnkerMake has designed their app and printer in a way that makes 3D printing simpler than we thought possible. This makes everything much more approachable for a new user, and even as experienced users we appreciate some of these ease-of-use aspects. It's worth noting, too, that the M5C isn't just a toy, and has an impressive set of hardware specs—it's capable of printing fast, and supports high-temperature materials.
Pros
Modern mainboard features
Auto bed leveling
Premium components
Easy to assemble
Direct drive extruder
PEI build surface has good balance of adhesion and part removal
Wireless printing
All-metal hot end
Dual gear extruder
About the AnkerMake M5C
The AnkerMake M5C is one of the fastest Cartesian 3D printers ever produced. It has a build volume of 220 X 220 X 250mm and a maximum speed of 500mm/s with 5,000 mm/s2 acceleration. The M5C is built with a solid frame in order to accomplish this speed, with the dual Z axis stepper motors recessed into the heavy die cast aluminum base. The gantry uprights are enclosed in shrouds, hiding the Z axis leadscrews and wiring. This leads to a clean, uncluttered design. The hot end is all-metal and the dual steel gear direct extruder has a maximum temperature of 300°C, enabling the printing of PLA, PETG, TPU, ABS and PA (nylon). The print bed can reach a temperature of 100°C and is covered by a removable magnetic flexible PEI build plate. The M5C features 49 point auto levelling using a strain gauge built into the nozzle which probes the bed and also sets the Z offset. Unusually, the M5C does not have a display or touchscreen at all. It has a multi-function button which can be programmed to carry out different commands on single press, double press or long press. The AnkerMake phone app connects by Bluetooth to the printer and acts as a display and touchscreen. The printer also connects to local computers by WiFi. Print files can be loaded into the printer's 8GB of eMMC memory over USB-C.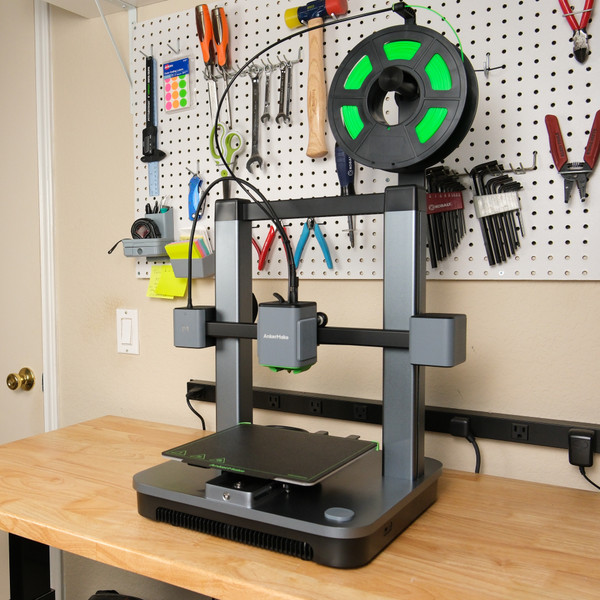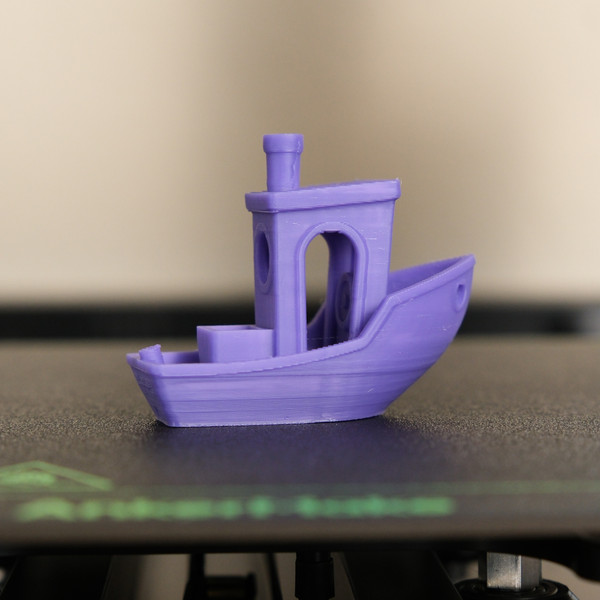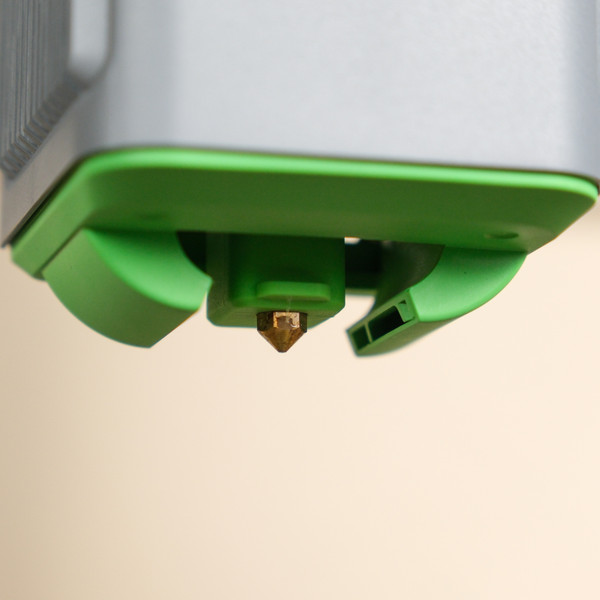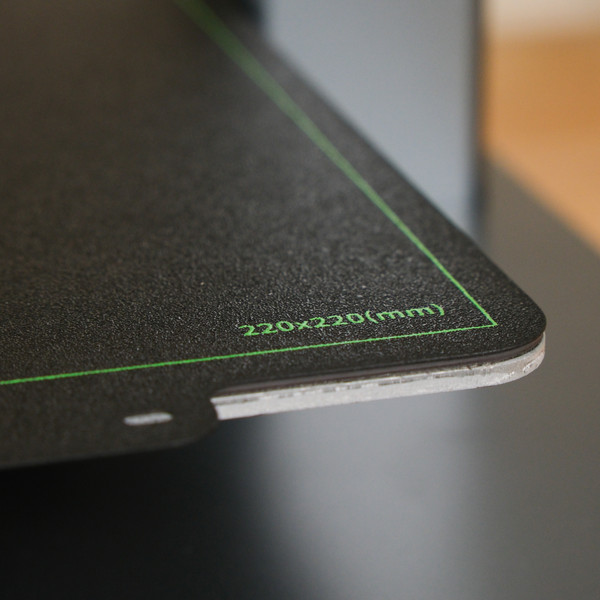 Benefits of the AnkerMake M5C
Modern mainboard features - Many 3D printer features relate to the version of the mainboard and firmware, including features like resuming prints after a power failure and support for silent stepper motor drivers for quieter printing. Newer boards also include safety features like thermal runaway protection which shuts the printer down if it detects issues with overheating.
Auto bed leveling - auto bed leveling will ensure your prints have perfect first layers every time and greatly reduce issues with bed adhesion. When using an auto-leveling system, the probe allows better tolerances for slightly warped print beds by measuring and compensating for any inconsistencies. Without this feature, you'll need to adjust the bed level manually using nuts on each corner of the print bed.
Premium components - This printer is known for using the highest quality components, and prioritizes this over providing a lower price point on their printers.
Easy to assemble - This 3D printer is shipped with most of the parts pre-assembled, and you will only need to attach a few components and connect a couple cables in order to get the machine ready to print.
Direct drive extruder - Direct drive extruders are mounted right above the hot end, and push the filament directly into it, as opposed to a side mounted bowden extruder setup. We prefer direct drive extruders to bowden since they are less prone to jamming and typically require less maintenance. they also are much easier to use with flexible materials
PEI build surface has good balance of adhesion and part removal - PEI beds are one of the more premium build surface options, and for good reason. They offer great first layer adhesion with no spraysor other treatments, and can be flexed to quickly remove parts. You'll need to clean the bed with a solvent like acetone or IPA every so often to maintain the bed's adhesion.
Wireless printing - In addition to the standard USB and SD card connections, you can connect wirelessly to this printer to print from your computer or mobile device.
All-metal hot end - An all-metal hot end allows for printing at high temperatures up to 300C, while standard hot ends are capped at 260C before the PTFE material begins to degrade. All-metal hot ends are also less susceptible to jamming, and do not degrade as fast.
Dual gear extruder - A dual gear extruder grips filament from both sides and can exert much more force on the filament before slipping. It helps with all filaments but especially with flexible, slippery TPU.
Disadvantages to consider
No LCD Screen - The printer does not include a screen, and relies on device connections to control it.
Where to buy the AnkerMake M5C
Brand Summary: AnkerMake
AnkerMake, branching out from the established electronics company Anker, has expanded into the 3D printing sector, drawing from its electronics heritage. Debuting with the M5 printer in April 2022 and followed by the M5C in 2023, AnkerMake provides Cartesian printers that emphasize durability and technical advancement. These machines integrate an AI-driven mechanism to meet diverse printing needs and are equipped with features like precise heating, efficient printing speeds, solid construction, auto-leveling, AI monitoring, and versatile connectivity. For those setting up, while the process is designed to be straightforward, beginners might need to refer to supplementary online resources due to the technical nature of some documentation. In terms of online presence, AnkerMake is in its nascent stage, with platforms like Reddit offering more active community support compared to the brand's official channels. The company offers online troubleshooting, but user feedback points to possible improvements in warranty and customer service areas. Diving deeper into their product lineup, the AnkerMake M5 stands out as a high-performance Cartesian 3D printer, characterized by its diverse features and a 4.3" touchscreen interface. On the other hand, the M5C, a more budget-friendly option, excludes a traditional display in favor of a multi-functional button and connectivity to a mobile app. Both models are tailored for efficient performance; however, given their advanced features, they might be more suitable for individuals with prior 3D printing experience. Overall, while AnkerMake printers offer notable benefits such as advanced AI capabilities and a robust design, potential users should be aware of certain challenges like the brand's emerging online community and areas in AI that might require further optimization.
Details & Specifications
General
Manufacturer
AnkerMake
Year Released
2023
Technology
FDM
Build Volume
220 x 220 x 250 mm
Bed Material
-
Extruder Type
Direct Drive
Hot-end Type
All-Metal
Physical Characteristics
Physical size
466 x 374 x 732 mm
Kinematics
Cartesian
Chassis
Unibody
Electronics
Base Voltage
24 V
Mainboard
-
Quiet Motor Drivers
-
Usability
Auto Leveling
Strain Based
Assembly Time
🔧 15 minutes
Other Features
Wifi connectivity
Where to Buy