If you make a purchase using a shopping link on our site, we may earn a commission. Learn More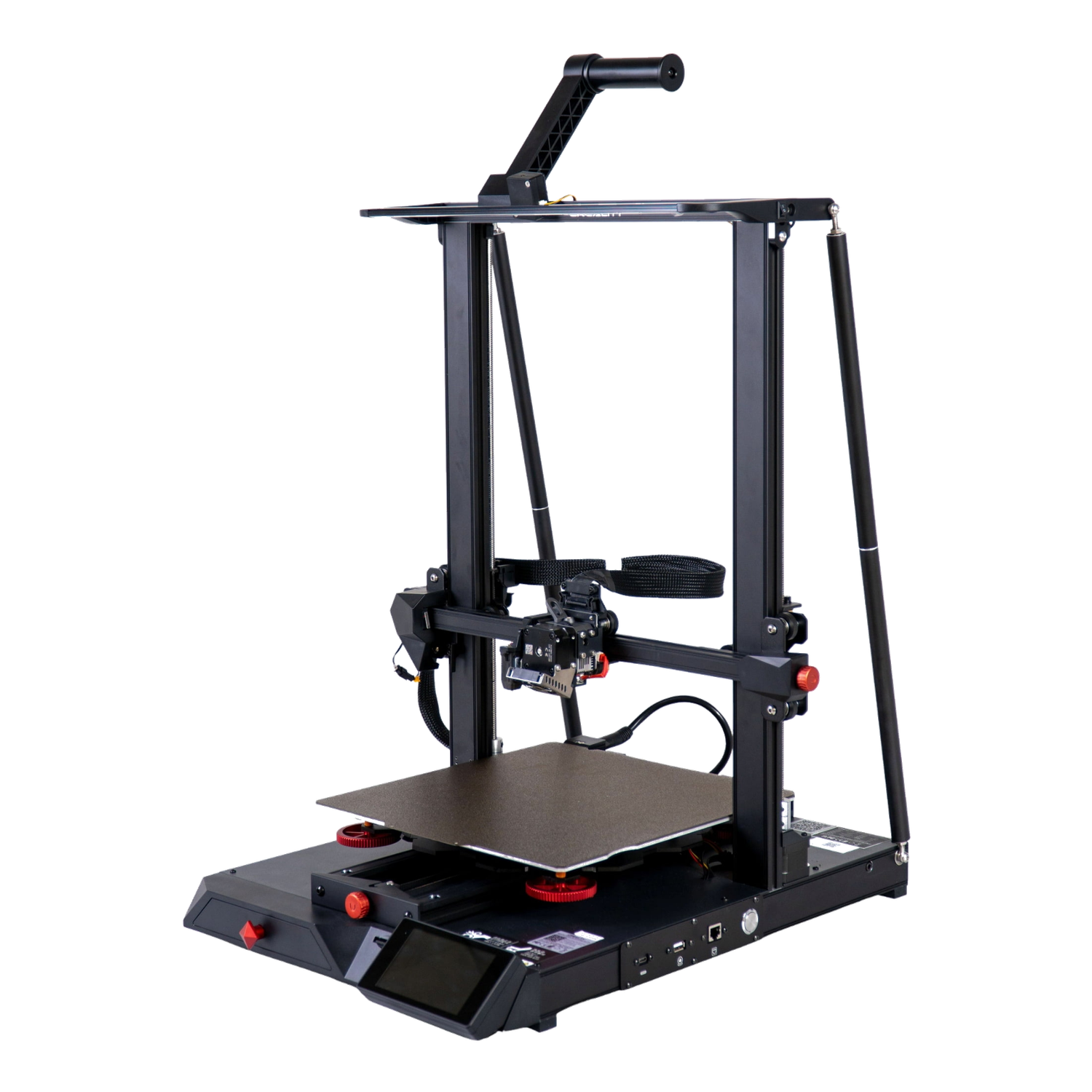 Creality CR-10 Smart Pro
Year Released:
2022
Build Volume:
300 x 300 x 400 mm (~12 x 12 x 15.75 in)
Price Range:
$775 - 800
Pros
Auto bed leveling
Has touch screen
Generous Build volume
Wireless printing
All-metal hot end
About the Creality CR-10 Smart Pro
The Creality CR-10 Smart Pro is a 3D printer that offers a range of features focused on ease of use and versatility. One standout feature is the built-in AI HD camera, which allows users to monitor their prints remotely via a smartphone app. This feature provides convenience and peace of mind, especially for advanced and professional users. Additionally, the printer comes with a PEI spring steel bed measuring 300 x 300 mm, providing a large build volume of 300 x 300 x 400 mm. The all-metal hotend and direct drive extruder enable the use of various materials, expanding the possibilities for different applications. One drawback of the CR-10 Smart Pro is its premium price, which may make it less accessible for budget-conscious users. However, the printer's advanced features and capabilities justify the higher cost for those who require the added convenience and functionality. Overall, the CR-10 Smart Pro stands out for its wireless printing capability, built-in webcam, and extensive material options, making it a versatile choice for users looking for a reliable and feature-rich 3D printer.
Benefits of the CR-10 Smart Pro
Auto bed leveling - auto bed leveling will ensure your prints have perfect first layers every time and greatly reduce issues with bed adhesion. When using an auto-leveling system, the probe allows better tolerances for slightly warped print beds by measuring and compensating for any inconsistencies. Without this feature, you'll need to adjust the bed level manually using nuts on each corner of the print bed.
Has touch screen - having a touch screen isn't a deal-maker or breaker, but it is a convenient feature that makes it easier to navigate the interface when you are printing files and configuring 3D printing settings.
Generous Build volume - A larger than average build volume means that you will be able to print larger parts without the need to split them into pieces and attach them together, which is especially useful with functional parts. If you have the room for the larger footprint, we definitely recommend going with a larger 3D printer, since you can always print small parts on a larger printer.
Wireless printing - In addition to the standard USB and SD card connections, you can connect wirelessly to this printer to print from your computer or mobile device.
All-metal hot end - An all-metal hot end allows for printing at high temperatures up to 300C, while standard hot ends are capped at 260C before the PTFE material begins to degrade. All-metal hot ends are also less susceptible to jamming, and do not degrade as fast.
Disadvantages to consider
High price tag - While this printer includes a lot of premium features, they come with a price. This printer is one of the more expensive consumer printers, and may not be worth the cost if you are willing to sacrifice some of the high end features.
Where to buy the CR-10 Smart Pro
Brand Summary: Creality
Creality is a well-known brand that offers a wide range of consumer 3D printers across all price points, from budget to higher end models. The Ender 3 is credited with originating the budget 3D printer market. While other brands now produce lower cost clones of the Ender 3, Creality remains the most established Chinese manufacturer of 3D printers. Creality uses off-the-shelf components and standardized aluminum extrusions on many of their printers to reduce costs, making their printers easy to repair and upgrade. Their official online community forums and manufacturer support are limited, but support can be found on communities on Reddit and Discord.
Resources
Other Resources
Details & Specifications
General
Manufacturer
Creality
Year Released
2022
Technology
FDM
Build Volume
300 x 300 x 400 mm
Bed Material
PEI Spring Steel
Extruder Type
Direct Drive
Hot-end Type
All-Metal
Physical Characteristics
Physical size
-
Kinematics
Cartesian
Chassis
Unibody
Electronics
Base Voltage
24 V
Mainboard
4.2.2 / 4.2.7 (32-bit silent manboard)
Quiet Motor Drivers
✔️
Usability
Auto Leveling
Inductive
Assembly Time
🔧 15 minutes
Other Features
Z Stabilization Rods
Where to Buy