If you make a purchase using a shopping link on our site, we may earn a commission. Learn More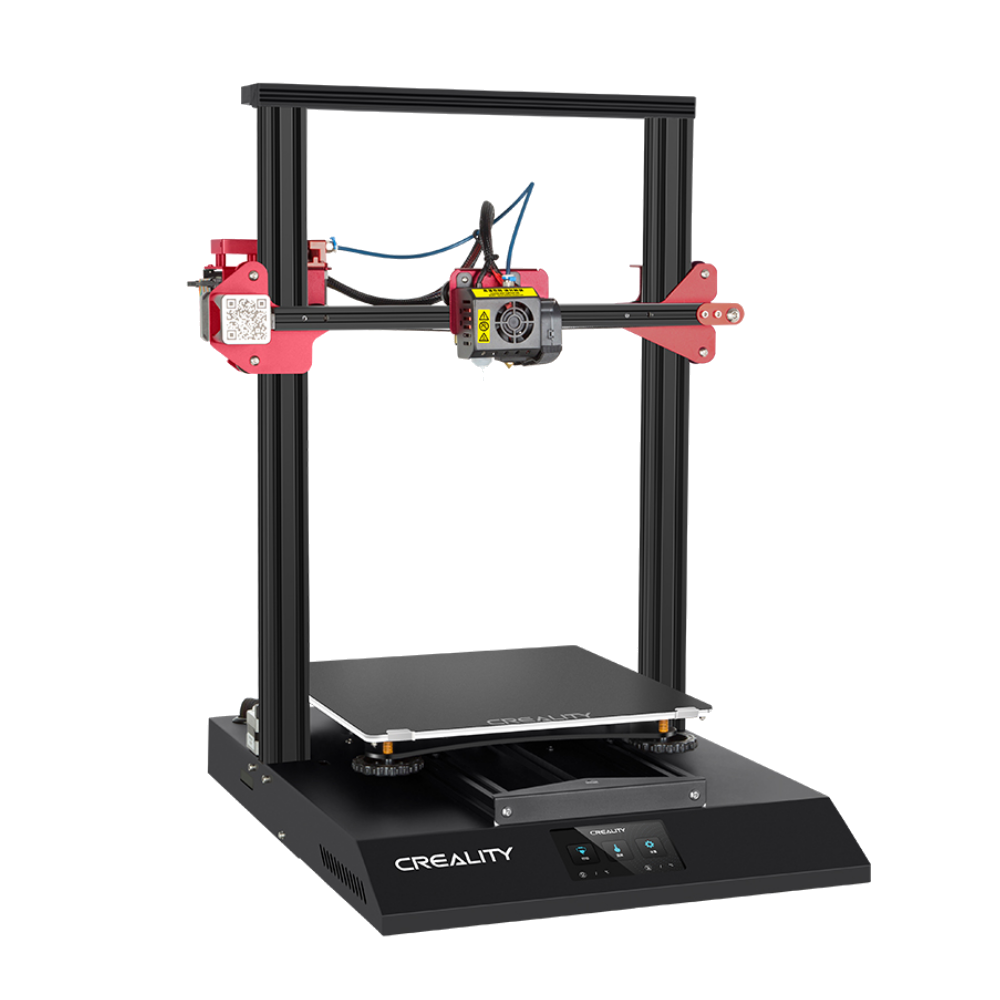 Creality CR-10S Pro V2
Year Released:
2020
Build Volume:
300 x 300 x 400 mm (~12 x 12 x 15.75 in)
Price Range:
$525 - 550
Pros
Easy to assemble
Generous Build volume
About the Creality CR-10S Pro V2
The Creality CR-10S Pro V2 is a major upgrade to the CR-10 Series, offering a range of features that provide great value for the added cost. One notable upgrade is the sleek unibody design, which integrates all of the printer electronics at the base of the machine, eliminating the need for a separate electronics box. This design also includes a touchscreen UI, Auto Bed Leveling, and a Filament Runout sensor. The printer comes partially pre-assembled, requiring only the attachment of a few components and the connection of cables to get it ready for printing. With a larger than average build volume of 300 x 300 x 400 mm, this printer allows for the printing of larger parts without the need for splitting and assembling them later. One standout feature of the Creality CR-10S Pro V2 is its unibody design, which not only enhances the overall aesthetics but also improves the functionality of the printer. The touchscreen UI provides a user-friendly interface for easy control and navigation. The Auto Bed Leveling feature ensures that the print bed is perfectly leveled, resulting in accurate and consistent prints. Additionally, the Filament Runout sensor prevents print failures by automatically pausing the print job when the filament runs out. These features contribute to a smoother and more convenient printing experience. Released in 2020, the Creality CR-10S Pro V2 is a relatively recent model, incorporating the latest advancements in 3D printing technology. However, it is important to note that this printer is priced higher compared to some other consumer printers. While it offers a range of premium features, the cost may not be justified for users who are willing to compromise on some high-end functionalities. It is recommended for those who prioritize the unibody design, larger build volume, and the convenience of features like Auto Bed Leveling.
Benefits of the CR-10S Pro V2
Easy to assemble - This 3D printer is shipped with most of the parts pre-assembled, and you will only need to attach a few components and connect a couple cables in order to get the machine ready to print.
Generous Build volume - A larger than average build volume means that you will be able to print larger parts without the need to split them into pieces and attach them together, which is especially useful with functional parts. If you have the room for the larger footprint, we definitely recommend going with a larger 3D printer, since you can always print small parts on a larger printer.
Disadvantages to consider
High price tag - While this printer includes a lot of premium features, they come with a price. This printer is one of the more expensive consumer printers, and may not be worth the cost if you are willing to sacrifice some of the high end features.
Where to buy the CR-10S Pro V2
Brand Summary: Creality
Creality is a well-known brand that offers a wide range of consumer 3D printers across all price points, from budget to higher end models. The Ender 3 is credited with originating the budget 3D printer market. While other brands now produce lower cost clones of the Ender 3, Creality remains the most established Chinese manufacturer of 3D printers. Creality uses off-the-shelf components and standardized aluminum extrusions on many of their printers to reduce costs, making their printers easy to repair and upgrade. Their official online community forums and manufacturer support are limited, but support can be found on communities on Reddit and Discord.
Details & Specifications
General
Manufacturer
Creality
Year Released
2020
Technology
FDM
Build Volume
300 x 300 x 400 mm
Bed Material
Carborundum Glass
Extruder Type
Bowden
Hot-end Type
Standard
Physical Characteristics
Physical size
547 x 485 x 650 mm
Kinematics
Cartesian
Chassis
Unibody
Electronics
Base Voltage
24 V
Mainboard
2.4.1
Quiet Motor Drivers
✔️
Usability
Auto Leveling
BL-touch
Assembly Time
🔧 15 minutes
Other Features
-
Where to Buy