If you make a purchase using a shopping link on our site, we may earn a commission. Learn More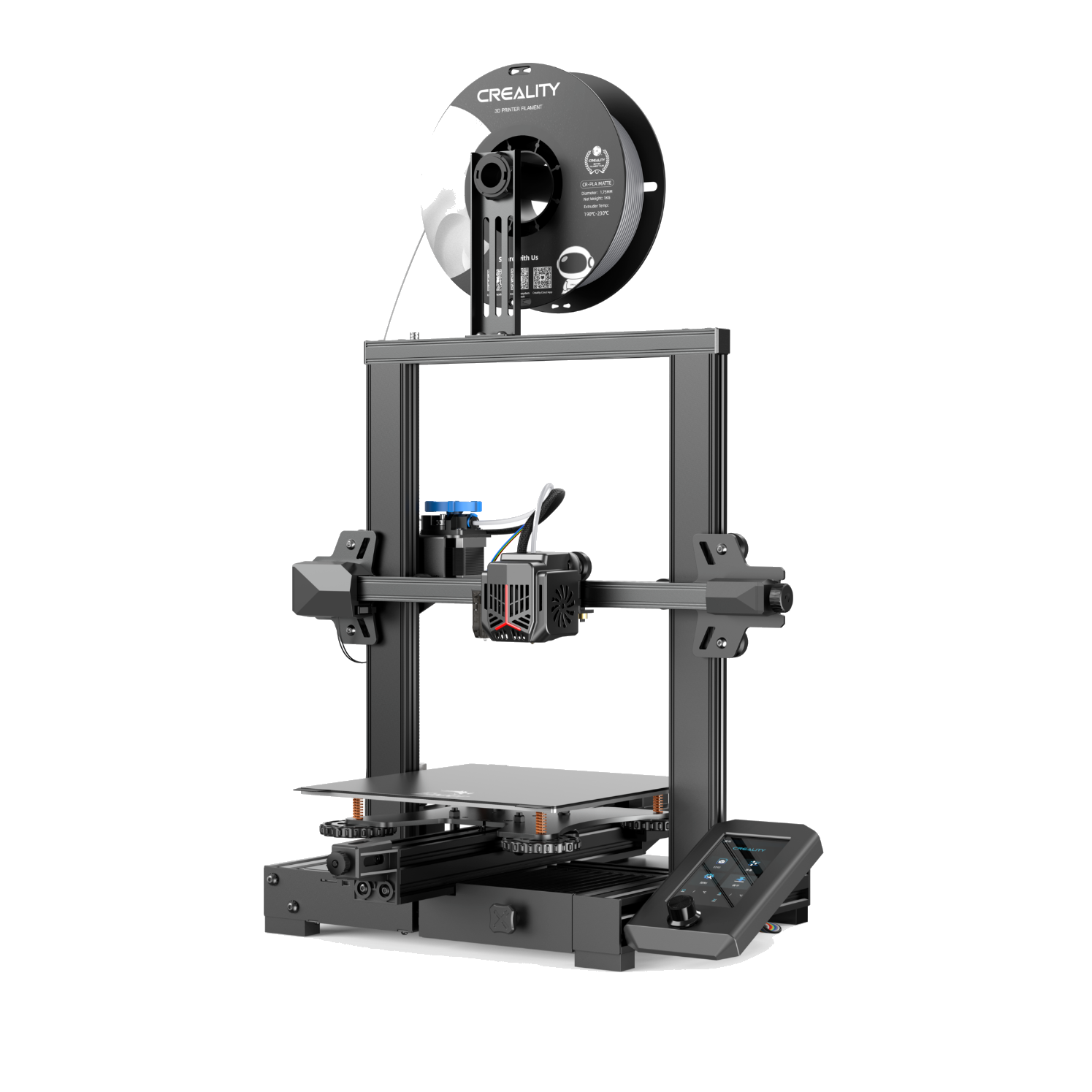 Creality Ender 3 V2 Neo
Year Released:
2022
Build Volume:
220 x 220 x 250 mm (~8.75 x 8.75 x 10 in)
Price Range:
$225 - 250
Pros
Auto bed leveling
Modern mainboard features
Easy to assemble
Affordable
Cons
No touch screen
PC build surface adhesion can be too much
About the Creality Ender 3 V2 Neo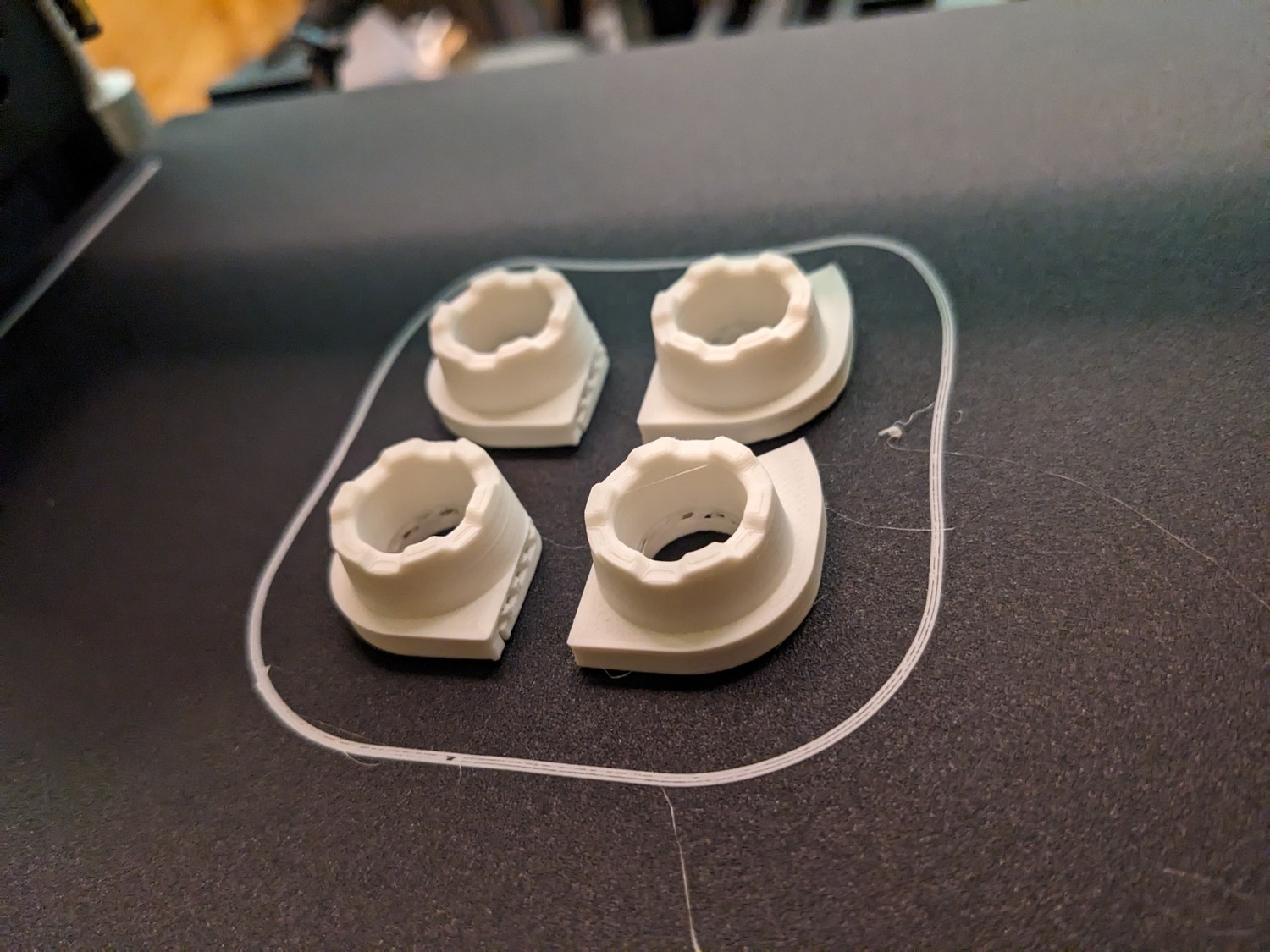 The Creality Ender 3 V2 Neo comes standard with many modern features while keeping within a budget price range. The Ender 3 series of printers has become very popular since their introduction, and for good reason. They're very affordable and offer excellent print quality. With a 220 x 220 x 250 mm (X, Y, Z) print volume, they're still large enough to print models and small parts, and won't take up too much space on a desk. The V2 Neo model adds several improvements to the classic Ender 3, including auto bed leveling, silent motor drivers, and a color LCD display. The Ender 3 V2 Neo was released in 2022 as the next iteration of the Ender 3 V2. Additionally, the Ender 3 V2 Neo is shipped almost fully assembled, so you can get it set up and running in about 15 minutes. The Ender 3 V2 Neo added auto bed leveling, a metal extruder, and a Steel magnetic bed for a modest $40 increase in price, which is well worth it (an auto bed leveling upgrade alone will typically cost $50). The Ender 3 V2 Neo typically comes in at around $80-100 more than the Ender 3, but we think it's well worth the added cost. With its modern features and improved design, this is a premium-feeling printer in an affordable package.
Benefits of the Ender 3 V2 Neo
Auto bed leveling - auto bed leveling will ensure your prints have perfect first layers every time and greatly reduce issues with bed adhesion. When using an auto-leveling system, the probe allows better tolerances for slightly warped print beds by measuring and compensating for any inconsistencies. Without this feature, you'll need to adjust the bed level manually using nuts on each corner of the print bed.
Modern mainboard features - Many 3D printer features relate to the version of the mainboard and firmware, including features like resuming prints after a power failure and support for silent stepper motor drivers for quieter printing. Newer boards also include safety features like thermal runaway protection which shuts the printer down if it detects issues with overheating.
Easy to assemble - This 3D printer is shipped with most of the parts pre-assembled, and you will only need to attach a few components and connect a couple cables in order to get the machine ready to print.
Affordable - This printer does not include a lot of frills, but offers a good experience for a low price point. While this low price means you won't be getting the most premium features, you can still get a lot out of these machines if you are willing to put up with some missing quality of life features.
Disadvantages to consider
No touch screen - having a touch screen isn't a deal-maker or breaker, but it is a convenient feature that makes it easier to navigate the interface when you are printing files and configuring 3D printing settings.
PC build surface adhesion can be too much - The PC coated bed offers great adhesion, but removing parts, especially those with large first layers, can be difficult. Fortunately, it is very easy to swap the bed for a PEI coated bed, which offers much easier part removal. We do recommend keeping the PC bed for use with anything that has an intricate first layer and needs the extra adhesion.
Where to buy the Ender 3 V2 Neo
Brand Summary: Creality
Creality is a well-known brand that offers a wide range of consumer 3D printers across all price points, from budget to higher end models. The Ender 3 is credited with originating the budget 3D printer market. While other brands now produce lower cost clones of the Ender 3, Creality remains the most established Chinese manufacturer of 3D printers. Creality uses off-the-shelf components and standardized aluminum extrusions on many of their printers to reduce costs, making their printers easy to repair and upgrade. Their official online community forums and manufacturer support are limited, but support can be found on communities on Reddit and Discord.
Resources
Reference Materials
Details & Specifications
General
Manufacturer
Creality
Year Released
2022
Technology
FDM
Build Volume
220 x 220 x 250 mm
Bed Material
PC Spring Steel
Extruder Type
Bowden
Hot-end Type
Standard
Physical Characteristics
Physical size
475 x 470 x 465 mm
Kinematics
Cartesian
Chassis
Integrated with Side LCD
Electronics
Base Voltage
24 V
Mainboard
4.2.2 / 4.2.7 (32-bit silent manboard)
Quiet Motor Drivers
✔️
Usability
Auto Leveling
CR-touch
Assembly Time
🔧 15 minutes
Other Features
Integrated tool drawer
Where to Buy