If you make a purchase using a shopping link on our site, we may earn a commission. Learn More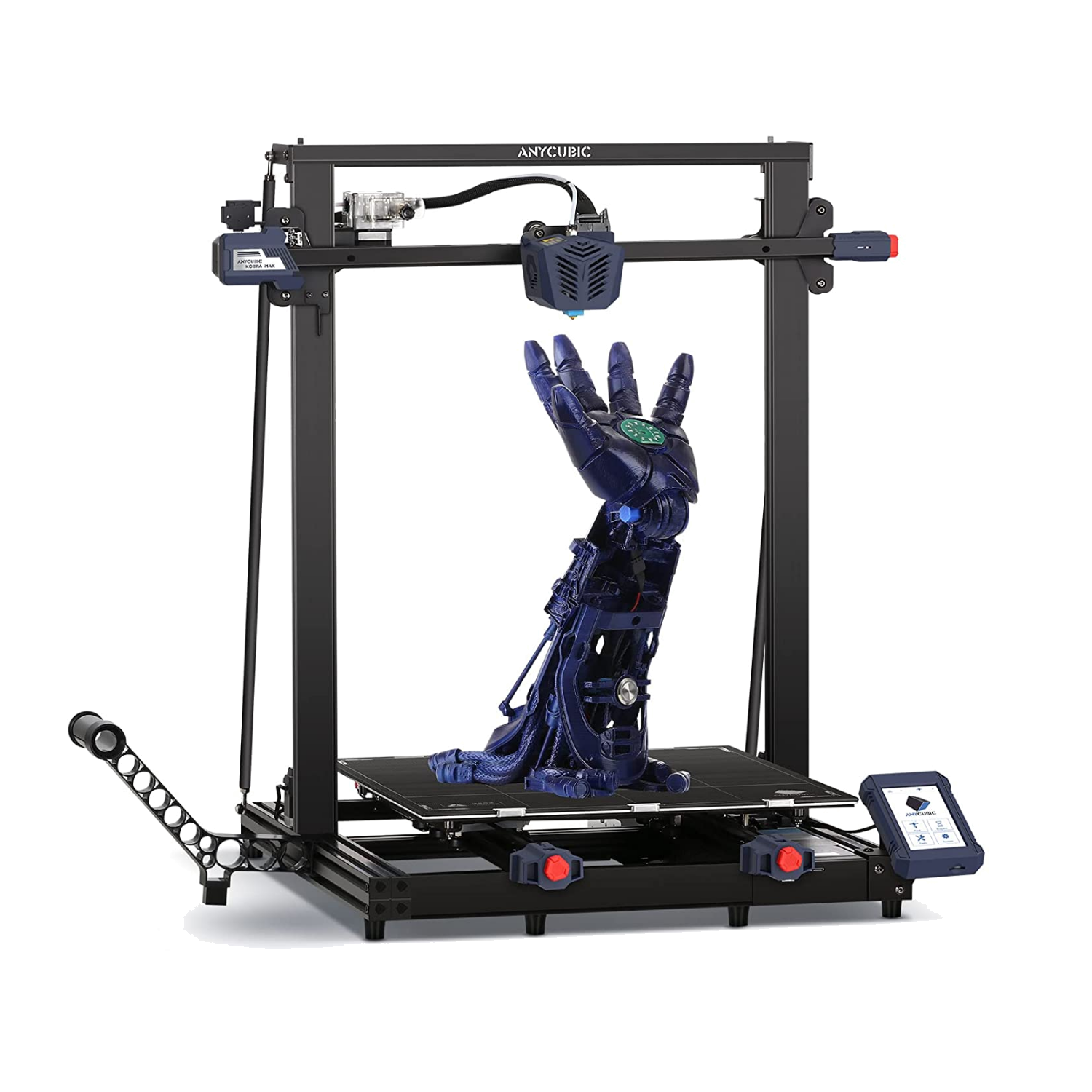 Anycubic Kobra Max
Year Released:
2022
Build Volume:
400 x 400 x 450 mm (~15.75 x 15.75 x 17.75 in)
Price Range:
$725 - 750
Pros
Has touch screen
Auto bed leveling
Huge build volume
Cons
Budget components
Limited online community
About the Anycubic Kobra Max
The Anycubic Kobra Max is a large 3D printer offered by Anycubic, with an impressive build volume of 400 x 400 x 450 mm. It is a Cartesian-style printer with a bowden extruder and a Carborundum Glass bed. One standout feature of the Kobra Max is its proprietary "LeviQ" automatic bed leveling system, which ensures a consistent first layer by measuring and compensating for any inconsistencies in the print bed. This feature greatly improves bed adhesion and reduces the need for manual bed leveling. In terms of its specifications, the Kobra Max has a maximum speed of 180.0 mm/s, making it capable of printing large parts relatively quickly. It also features a touch screen interface, which provides a convenient and user-friendly way to navigate through files and configure 3D printing settings. However, it is important to note that the Kobra Max does have some drawbacks. In order to keep costs down, it uses more plastic pieces and lower-quality components compared to other printers. Additionally, the online community for this printer may be smaller, which means there may be limited availability of slicer profiles and less support for troubleshooting. Overall, the Anycubic Kobra Max is a budget-friendly option for those in need of a large build volume. Its automatic bed leveling system and touch screen interface are notable features that enhance the printing experience. However, potential buyers should be aware of the trade-offs in terms of component quality and community support.
Benefits of the Anycubic Kobra Max
Has touch screen - having a touch screen isn't a deal-maker or breaker, but it is a convenient feature that makes it easier to navigate the interface when you are printing files and configuring 3D printing settings.
Auto bed leveling - auto bed leveling will ensure your prints have perfect first layers every time and greatly reduce issues with bed adhesion. When using an auto-leveling system, the probe allows better tolerances for slightly warped print beds by measuring and compensating for any inconsistencies. Without this feature, you'll need to adjust the bed level manually using nuts on each corner of the print bed.
Huge build volume - This printer has one of the largest build volumes in the consumer market, and will provide the most options in terms of printing large parts. While this can be very useful for certain applications, the large footprint of these machines makes them hard to fit on a desk, so we only recommend going with a 3D printer of this size if you really need it
Disadvantages to consider
Budget components - In order to keep costs down, this 3D printer uses more plastic pieces and other lower quality components
Limited online community - The online community is important to consider when it comes to learning more about your printer. A smaller community means that you may need to figure more out on your own, and there will be limited availablility of slicer profiles online.
Where to buy the Anycubic Kobra Max
Brand Summary: Anycubic
Anycubic is a budget 3D printer brand known for offering Creality Ender 3-like clones with more features at lower prices. Established in 2015, they focus on their Kobra series, providing ease-of-use features and attractive pricing for beginners. With a large online community, Anycubic offers after-sales support, but their Trustpilot rating is low. Recommended for users on a budget, Anycubic's printers balance affordability and functionality. However, their reputation for poor support, the use of less durable plastic gears in the Kobra's extruder, and the cosmetic appearance with many plastic components may deter some users.
Details & Specifications
General
Manufacturer
Anycubic
Year Released
2022
Technology
FDM
Build Volume
400 x 400 x 450 mm
Bed Material
Carborundum Glass
Extruder Type
Bowden
Hot-end Type
Standard
Physical Characteristics
Physical size
-
Kinematics
Cartesian
Chassis
Integrated with Side LCD
Electronics
Base Voltage
24 V
Mainboard
Kobra Mainboard
Quiet Motor Drivers
✔️
Usability
Auto Leveling
Strain Based
Assembly Time
🔧 15 minutes
Other Features
Built-in belt tensioner
Where to Buy