If you make a purchase using a shopping link on our site, we may earn a commission. Learn More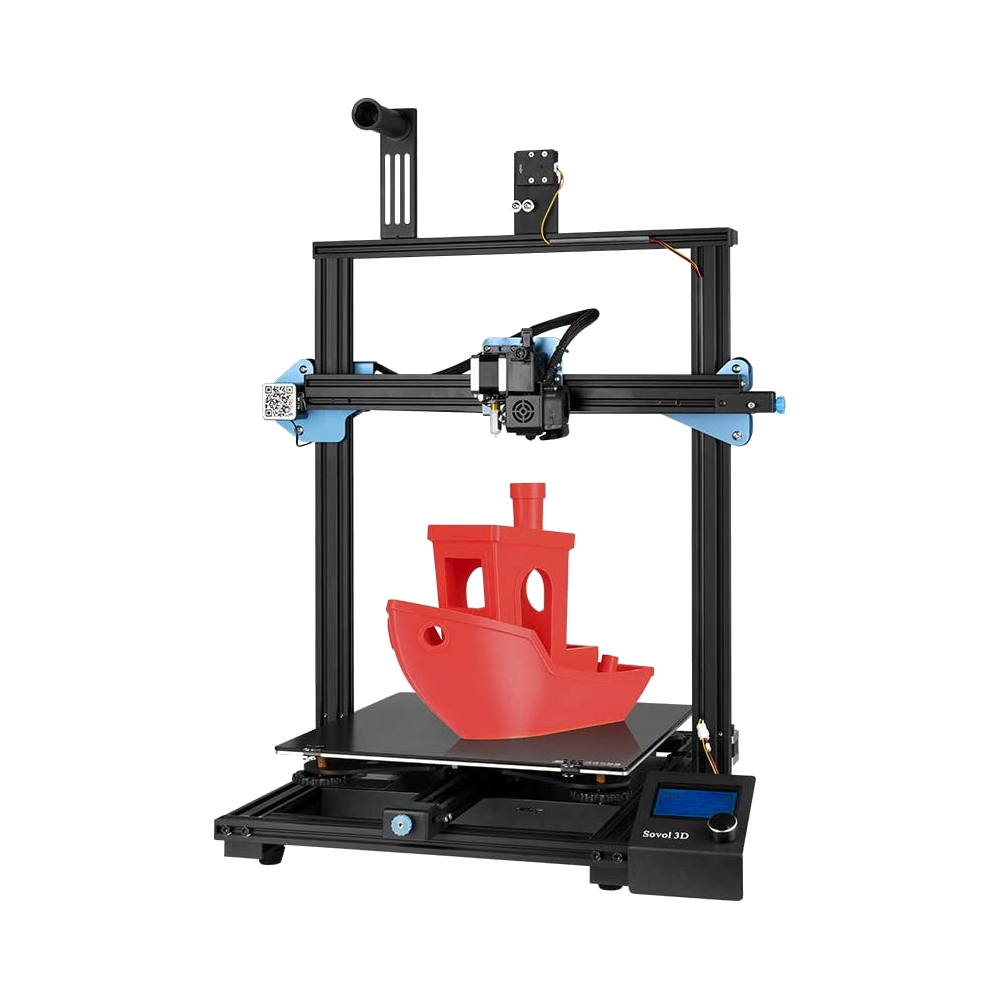 Sovol SV03
Year Released:
2021
Build Volume:
350 x 350 x 350 mm (~14 x 14 x 14 in)
Price Range:
$375 - 400
Pros
Auto bed leveling
Generous Build volume
Cons
Budget components
Dated LCD Screen
About the Sovol SV03
The SV03 is a direct drive 3D printer with a large build volume of 350x350x400mm. It has a pre-installed BLTouch for auto bed leveling and a filament sensor to prevent printing interruptions. The printer comes with a carbon crystal silicon glass bed for a reliable and flat printing surface. It also has a silent TMC2208 board for noise reduction and a meanwell power supply for stable and sufficient power. Additionally, the SV03 has a resume printing function for interrupted prints.
Benefits of the Sovol SV03
Auto bed leveling - auto bed leveling will ensure your prints have perfect first layers every time and greatly reduce issues with bed adhesion. When using an auto-leveling system, the probe allows better tolerances for slightly warped print beds by measuring and compensating for any inconsistencies. Without this feature, you'll need to adjust the bed level manually using nuts on each corner of the print bed.
Generous Build volume - A larger than average build volume means that you will be able to print larger parts without the need to split them into pieces and attach them together, which is especially useful with functional parts. If you have the room for the larger footprint, we definitely recommend going with a larger 3D printer, since you can always print small parts on a larger printer.
Disadvantages to consider
Budget components - In order to keep costs down, this 3D printer uses more plastic pieces and other lower quality components
Dated LCD Screen - The printer's LCD screen is a more basic monochrome interface with limited resolution and no support for graphical components. While this does not detract much from using the printer, it can take a bit longer to navigate through the text only menus, and gives the printer a less premium feel.
Where to buy the Sovol SV03
Brand Summary: Sovol
Sovol is a 3D printer brand known for producing innovative printers with more features than their competitors at a lower price. Their printers are beginner-friendly and have good build quality, but their entry-level printer, the SV01, lacks a bed leveling probe. While Sovol's community is still establishing itself, the company's support is well-regarded, and they have over 80,000 users. Sovol has experimented with complex dual extrusion features, which led to clogging problems and quality issues in some of their previous models. However, their current printers, such as the SV06 Plus, offer impressive features like 25-point auto bed leveling and a 500W bed heater. Sovol's varied printers appeal to different users, from new users to advanced users.
Details & Specifications
General
Manufacturer
Sovol
Year Released
2021
Technology
FDM
Build Volume
350 x 350 x 350 mm
Bed Material
-
Extruder Type
Direct Drive
Hot-end Type
-
Physical Characteristics
Physical size
350 x 350 x 400 mm
Kinematics
Cartesian
Chassis
-
Electronics
Base Voltage
-
Mainboard
-
Quiet Motor Drivers
-
Usability
Auto Leveling
Touch Probe
Assembly Time
-
Other Features
-
Where to Buy