If you make a purchase using a shopping link on our site, we may earn a commission. Learn More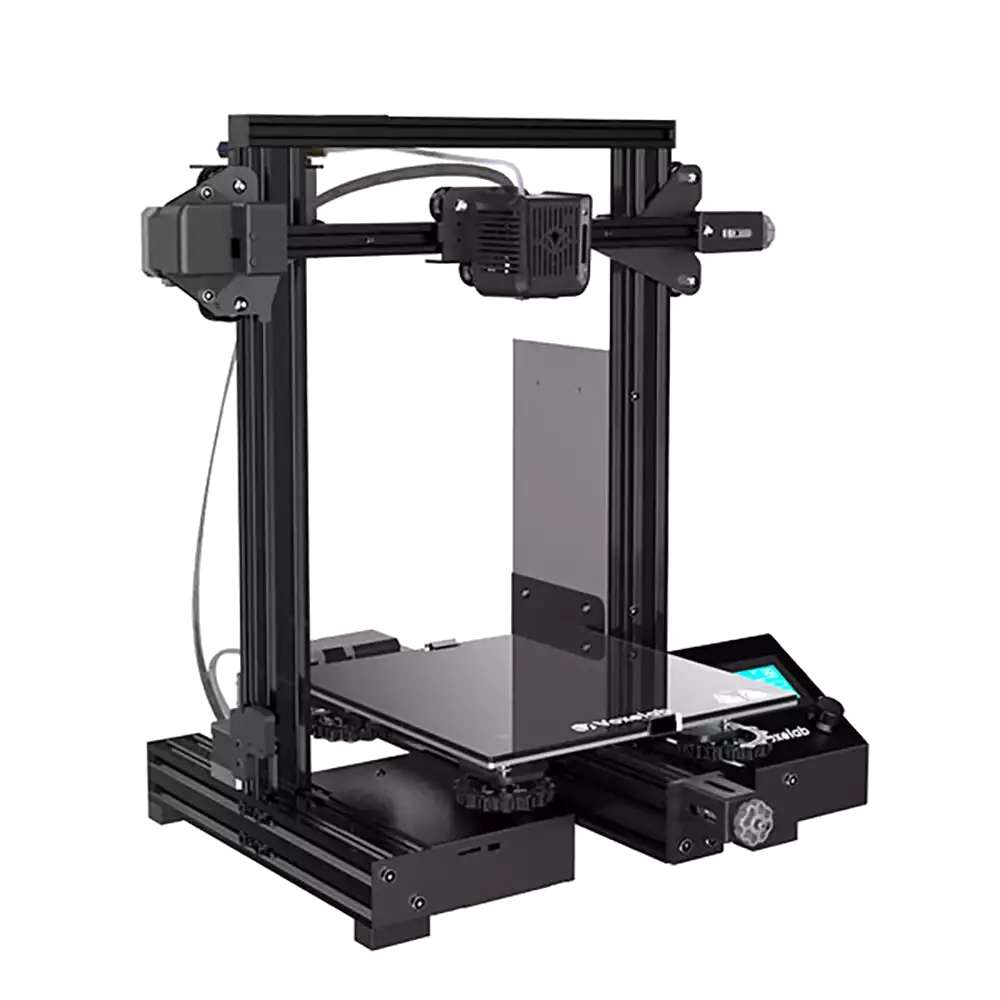 Voxelab Aquila C2
Year Released:
2021
Build Volume:
220 x 220 x 220 mm (~8.75 x 8.75 x 8.75 in)
Price Range:
$150 - 175
Pros
Sub-200 Price tag
Carborundum glass bed provides good adhesion and easy removal
Modern mainboard features
Cons
Budget components
Bare-bones appearance
Moderately difficult assembly
Manual bed levelling
Dated LCD Screen
About the Voxelab Aquila C2
The Aquila C2 by Voxelab is a 3D printer that is the most affordable model in the Aquila line. This printer is very similar to the Creality Ender 3 in appearance, but offers a newer mainboard and more premium carborundum glass bed at an even lower price than the Ender 3.
Benefits of the Voxelab Aquila C2
Sub-200 Price tag - This printer is one of the most affordable on the market, and sells for under $200. While this low price means you won't be getting the most premium features, you can still get a lot out of these machines if you are willing to put up with some missing quality of life features, and get your hands dirty with more frequent repairs.
Carborundum glass bed provides good adhesion and easy removal - Carborundum glass is a great build surface that provides good adhesion while heated, but parts can be removed easily once it cools. The surface finish is not quite as smooth as borosilicate glass, but the superior adhesion without any hairspray more than compensates. With a carborundum bed, you wont need to use any additional adhesives like hairspray, but it is important that you clean the bed with a damp cloth after every 5-10 prints to maintain the adhesion.
Modern mainboard features - Many 3D printer features relate to the version of the mainboard and firmware, including features like resuming prints after a power failure and support for silent stepper motor drivers for quieter printing. Newer boards also include safety features like thermal runaway protection which shuts the printer down if it detects issues with overheating.
Disadvantages to consider
Budget components - In order to keep costs down, this 3D printer uses more plastic pieces and other lower quality components
Bare-bones appearance - This printer is not built to be attractive, which is apparent by the standard aluminum extrusions used throughout the design, and the exposed power supply unit. While this is a purely cosmetic issue, it makes the printer less attractive than some of it's more expensive cousins.
Moderately difficult assembly - This 3D printer is shipped partially unassembled, and will require more time to put together. This can be a good learning experience to better understand how the printer works, but can be a challenge especially if you are new to 3D printing.
Manual bed levelling - This printer requires you to to adjust the bed level manually using nuts on each corner of the print bed. Once you have calibrated the bed leveling, you may need to adjust the levelling knobs periodically to ensure good first layer adhesion to the print bed.
Dated LCD Screen - The printer's LCD screen is a more basic monochrome interface with limited resolution and no support for graphical components. While this does not detract much from using the printer, it can take a bit longer to navigate through the text only menus, and gives the printer a less premium feel.
Where to buy the Voxelab Aquila C2
Brand Summary: Voxelab
Voxelab is a budget 3D printer brand known for producing Ender 3 clone printers with more features at lower prices than Creality equivalents. While there have been some complaints about the quality of certain components, Voxelab printers are intended for beginners and are generally considered adequate for most users. The brand is relatively new, with its first product, the Aquila, being released in November 2020. Voxelab maintains an official Facebook group with 15,700 members and an unofficial Reddit with 7,900 members, suggesting a growing user base. Manufacturer support is reported to be good, with Voxelab seen as responsive and generous. We would recommend Voxelab to new users with a desire to upgrade and learn, as some printer components may need to be replaced or upgraded, but the money saved over Creality can pay for those upgrades.
Details & Specifications
General
Manufacturer
Voxelab
Year Released
2021
Technology
FDM
Build Volume
220 x 220 x 220 mm
Bed Material
-
Extruder Type
Direct Drive
Hot-end Type
Standard
Physical Characteristics
Physical size
465 x 480 x 473 mm
Kinematics
Cartesian
Chassis
-
Electronics
Base Voltage
-
Mainboard
-
Quiet Motor Drivers
-
Usability
Auto Leveling
Touch Probe
Assembly Time
-
Other Features
-
Where to Buy