If you make a purchase using a shopping link on our site, we may earn a commission. Learn More
Top pick
Prusa MK4
Year Released:
2023
Build Volume:
210 x 210 x 250 mm (~8.25 x 8.25 x 10 in)
Price Range:
$775 - 800
Pros
Large online community
Modern mainboard features
Premium components
Direct drive extruder
Wireless printing
Cons
Difficult to assemble
High price tag
About the Prusa MK4
The Prusa MK4 is the newest addition to Prusa's line of 3D printers, introducing various enhancements compared to the MK3S+. It has a build volume of 210 x 210 x 250 mm and is designed for reliable and precise prints. The MK4 features an improved auto-bed leveling system, employing a strain system with a Hall sensor, which is faster and more reliable than the previous model. The direct drive extruder of the MK4 incorporates a Nextruder Planetary Gear System (10:1 gearbox ratio) for increased precision and performance. Although the blower-style fan is not a new feature, it continues to provide effective part cooling for better quality overhangs. The MK4 also simplifies filament feeding with a fully automated process, removing the need to navigate the user interface. Additionally, the user experience is enhanced with a 3.5-inch touchscreen interface, an improvement over the MK3S+'s. Connectivity options in the MK4 have been expanded to include USB, SD card, Ethernet, and optional Wi-Fi support. The Prusa community continues to provide resources, troubleshooting tips, and user-created upgrades.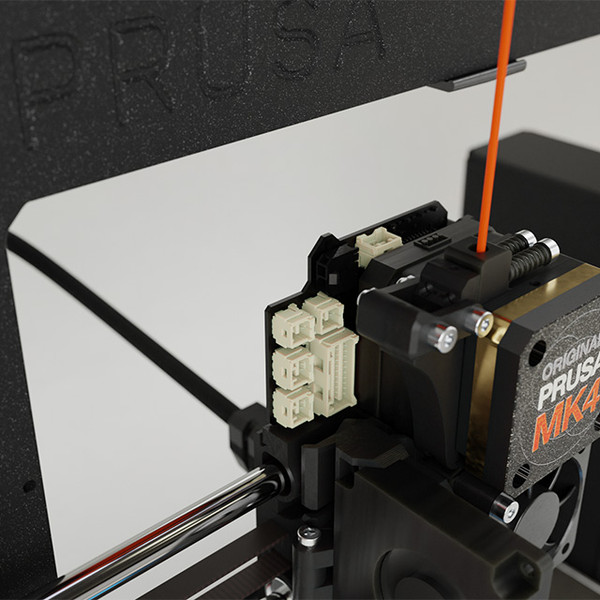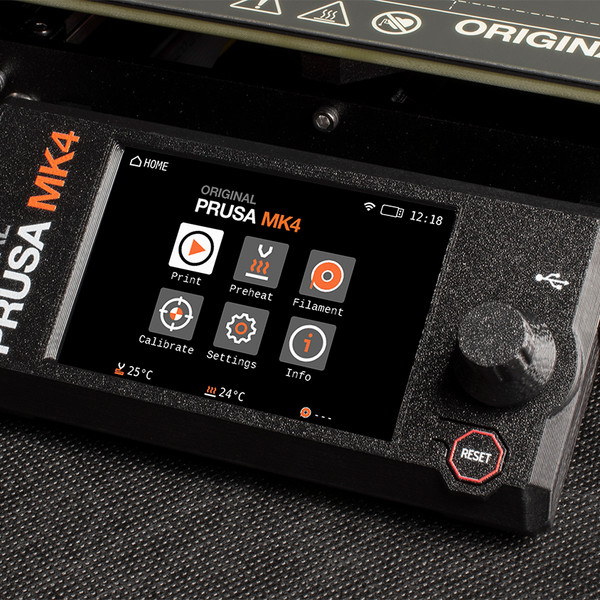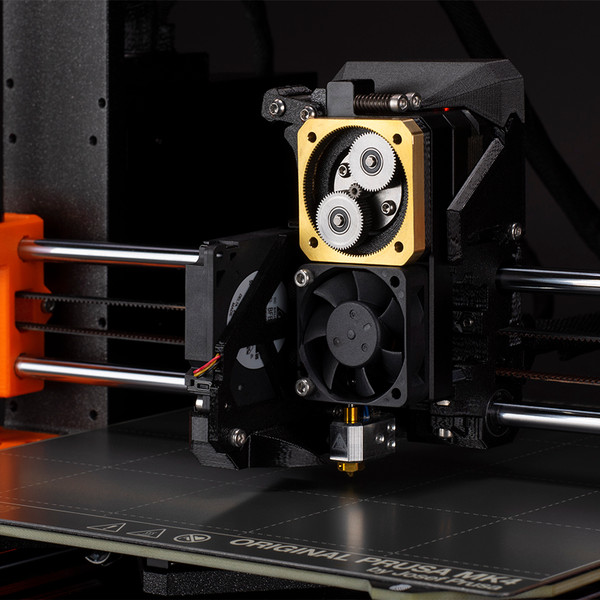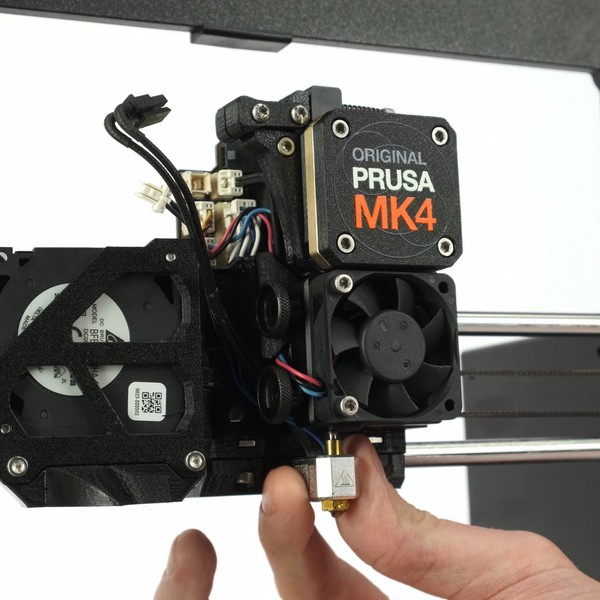 Benefits of the Prusa MK4
Large online community - A large online community is important when it comes to any questions that come up as you learn how to use your 3D printer. A larger community typically means that you'll be able to find answers already posted to the most common questions, and you'll be able to find slicing profiles and printable upgrades online.
Modern mainboard features - Many 3D printer features relate to the version of the mainboard and firmware, including features like resuming prints after a power failure and support for silent stepper motor drivers for quieter printing. Newer boards also include safety features like thermal runaway protection which shuts the printer down if it detects issues with overheating.
Premium components - This printer is known for using the highest quality components, and prioritizes this over providing a lower price point on their printers.
Direct drive extruder - Direct drive extruders are mounted right above the hot end, and push the filament directly into it, as opposed to a side mounted bowden extruder setup. We prefer direct drive extruders to bowden since they are less prone to jamming and typically require less maintenance. they also are much easier to use with flexible materials
Wireless printing - In addition to the standard USB and SD card connections, you can connect wirelessly to this printer to print from your computer or mobile device.
Disadvantages to consider
Difficult to assemble - This 3D printer is shipped mostly unassembled, and will require more time to put together. This can be a good learning experience to better understand how the printer works, but can be a challenge especially if you are new to 3D printing.
High price tag - While this printer includes a lot of premium features, they come with a price. This printer is one of the more expensive consumer printers, and may not be worth the cost if you are willing to sacrifice some of the high end features.
Where to buy the Prusa MK4
Brand Summary: Prusa
Prusa Research is a well-known manufacturer of high-end 3D printers that are known for their top-performing and innovative designs. The brand is mostly recognized for its impeccable documentation, high quality parts, and excellent customer support. Prusa printers are beginner-friendly once assembled, but the assembly process can be time-consuming, even though the firmware has extensive calibration and troubleshooting routines built-in. The Prusa community is large and active, with many technical experts among the veteran 3D printing hobbyists. Prusa's focus is on a few models at a time, and they are known for their well-made printers. However, competitors are rapidly catching up to Prusa, offering similar features at a lower price.
Details & Specifications
General
Manufacturer
Prusa
Year Released
2023
Technology
FDM
Build Volume
210 x 210 x 250 mm
Bed Material
PEI Spring Steel
Extruder Type
Direct Drive
Hot-end Type
All-Metal
Physical Characteristics
Physical size
500 x 550 x 400 mm
Kinematics
Cartesian
Chassis
Unibody
Electronics
Base Voltage
24 V
Mainboard
xBuddy 32-bit STM32-powered mainboard
Quiet Motor Drivers
-
Usability
Auto Leveling
Strain
Assembly Time
🔧🔧🔧🔧🔧 8 Hours
Other Features
Linear rails for all axes
Where to Buy